Looking for a retreat location that's a departure from the typical hotel conference room, one with scenic beauty as the backdrop and doesn't take hours upon hours to get to? A place where quality, inspiring adventure activities can be turned into team building, leadership and personal development tools? We believe our resort, dollar for dollar, offers corporate leaders a terrific value without sacrificing quality.
GROUP LODGE OVERLOOKING ARKANSAS' FINEST SCENERY

As business leaders, we've used our personal experience to build a meeting facility, RiverWind Lodge, that pairs a stellar
location with amentities that make for easy execution, whether it's the lodge's spacious great room (which can host up to 50 guests at tables) overlooking 30 miles of Buffalo River country or it's readily equipped kitchen featuring double appliances that expedite meal prep and clean up. Click here to learn more about RiverWind Lodge and its many corporate-friendly amenities, including the overnight accommodations.
EASY-TO-REACH LOCATION
We're less than 90 minutes from Northwest Arkansas and an easy 2.5 hours from Little Rock. Three hours from Tulsa and six hours from Memphis. With the finest mountain scenery in Arkansas as your final destination. Click here for driving directions and a map of our geographic location.
CATERING
Although meal prep itself can be a team-building experience, sometimes you want them focused on other things or perhaps just enjoying some down time. If so, visit with our office staff (1-870-861-5514) about catering options.
HIKING
It's always a good day when you hike the Buffalo National River and the Ponca area where we're located is home to the finest hiking trails in Arkansas. This is always a great year 'round choice for a group activity. Ask our office staff for a trail recommendation that would fit into your retreat itinerary.
CANOEING
March through June, we can help you organize a group float trip through Arkansas' prettiest canoeing scenery. Plus, even though you're there for fun and fellowship, canoeing is an activity which naturally inspires teamwork, so it's a great way to relax with your team, yet simultaneously influence the teamwork side of things. We can also prepare a box lunch and stocked ice chest (water / sodas / Gatorade) for your trip.
Staying with us, too? Call (870) 861-5514 for information on special corporate rates and packages. (Please remember that our canoeing season is March - June or until the water is becomes too low for floating.)
HORSEBACK RIDING
Take in the quiet wooded trails flanked by boulders, cross a meandering stream and venture out into an open meadow where you'll be treated to a beautiful view of the mountains.
Rimrock Cove offers one, two or three hour guided horseback rides.
Rates:
Guided horseback riding $35 per hour per person plus 10% AR sales tax. (Minimum charge per trip $70 plus tax)
Hayrides: For larger groups or those who are unable to ride horseback Rimrock Cove offers a horse drawn hayride. You can reserve a one hour ride on the hay wagon and see some of the same wooded trails and open meadow that guests cover on horseback, or take the two hour option where guests will stop and build a fire for you to roast hot dogs, marshmallows or what ever you choose to bring along.
Horseback riding is available through Rimrock Cove Ranch and is located on private property. They offer rides by reservation only, if you'd like to include this excurion in your corporate retreat package please let us know in advance.
ZIPLINE CANOPY TOUR
It's amazing how people pull together and cheer one another on when standing on a platform 50 feet in the air with nowhere to go but forward! Suddenly a meek, mild person discovers that she has a lot of hidden bravery in her (and her teammates discover this as well)...or, a bold "I-got-this" type learns the importance of relying on the skill sets of others as the guides coach on departures and approaches, which are different from platform to platform. Plus, it's just pretty up there in the trees, so your team will enjoy themselves immensely and have great stories to tell when they return home.
Zipline rates are $89+tax per person for less than 8 people; $79+tax for 8 or more. For a private weekday tour (minimum of 8 guests), we need a 2-week advance notice as the zipline is not open every day of the week.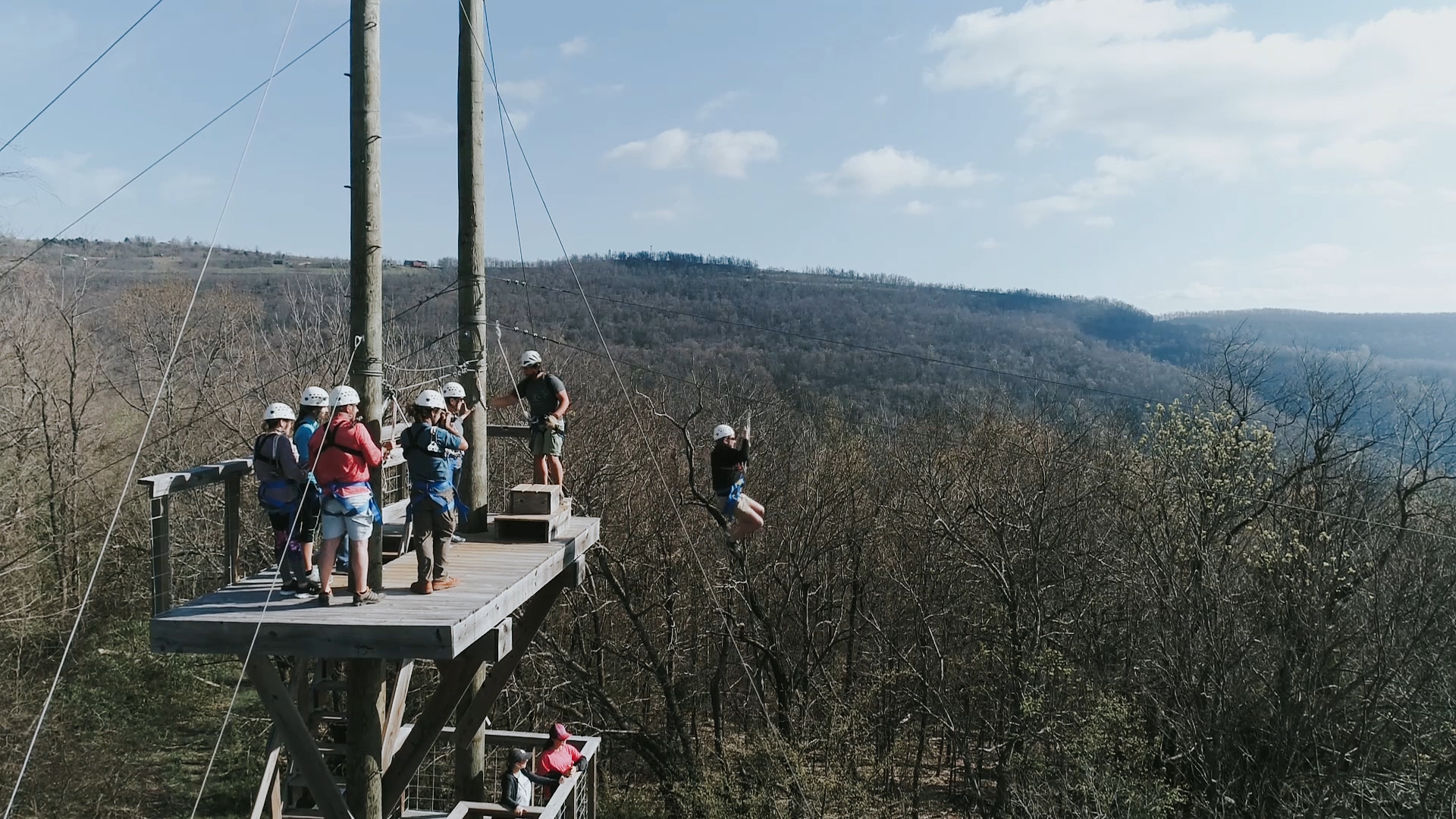 With our great Zipline Team, you can turn a zipline experience into a quality team building or leadership coaching opportunity. We can take a zipline and craft it into something far more than just a great adventure. If you'd like to explore this idea, call / email at (870) 861-5514 / email: boc@buffaloriver.com.