Click here for a Hideout Hollow Trail Map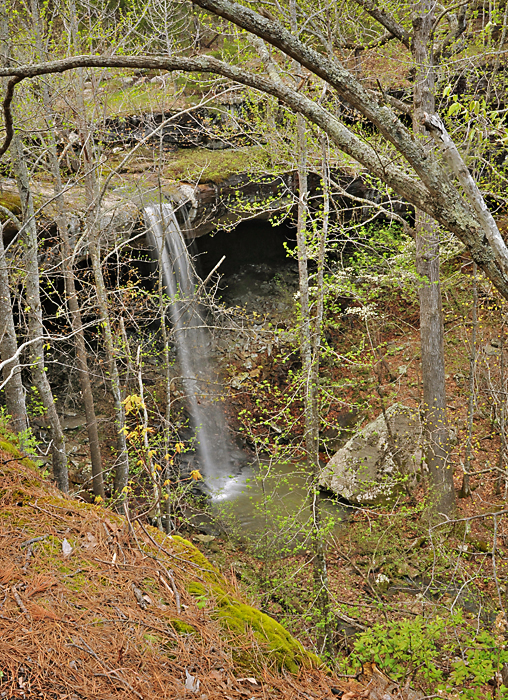 2 Miles R/T: This trail leads to one of the prettiest waterfall areas in Buffalo River country. The fall is easily 50 feet tall with the surrounding bluffline offering the chance to sit for a spell and gaze off into the wilderness below.
Naturally, springtime in the Ozark Mountains is a waterfall's finest hour---with regular rainfall creating the beautiful cascades we can't ever seem to get enough of. But anytime is a nice time to hike this trail, as the bluffline area is pretty year 'round and just a great place to while away an hour or two, perhaps with a good book in hand.
Directions from Ponca: The trailhead is located exactly 3 miles from Compton (9 miles from Ponca on Hwy 43 N) down a gravel road that takes off just about opposite of the Compton Post Office. (You'll see a wooden "Wilderness Access" sign as you approach this road from the direction of Ponca.) This is the same road you take to access the Hemmed-In Hollow trailhead.
The Hideout Hollow trailhead and small parking area (on the left) are marked with a sign. As you park, the trail is directly in front of you; it is 1 mile to the bluffline and waterfall from here. On the way back, the last little bit is a slow uphill...just take your time and you should be fine.
There are a couple of places on the trail where in wet weather you may have to negotiate some logs in order to keep your feet dry. Once at the bluffline area, take a moment to enjoy the scenery across the way, including some huge pine trees growing ON TOP of a gigantic boulder. Those are tall trees, which gives you an indication of just how big that boulder is!
Underneath the bluff line (be careful as you peer over) is a rock foundation that is the namesake feature which lends the trail its name---Hideout Hollow. Legend has it that Jesse James and his gang hid out in this hollow for a time, circumventing the law, and the foundation is the remnant of a shelter they erected. Since Jesse James' hometown is only 2 hours away in Jane, MO, there is more than just an odd chance that the legend is true. Even if untrue, the foundation is not from recent times and offers one a chance to ponder its historical connection to the tough people who homesteaded this area.
Agile folks who watch their footing and are not intimidated by heights (and assuming the water flow isn't heavy) may decide to cross the waterfall and follow a narrow ledge to a "go down" area that is a little precarious, but can be done if you are careful. (We would not recommend attempting this alone as going down is one thing and coming back up is another.) This allows you to go underneath the waterfall and explore the creek area below.
Photographers will find that both the early morning and late afternoon present opportunities for photographs of the waterfall. Whereas a cloudy day, wherein you can do some fancy shutter work and "angel hair" the fall, perhaps presents the best condition of all in which to shoot!
Please exercise caution around the bluffline and waterfall, especially if you have children along. They should not be unsupervised for even a moment in this area.
COMING TO HIKE & NEED LODGING? Click here to explore our beautiful CABIN RENTAL options!