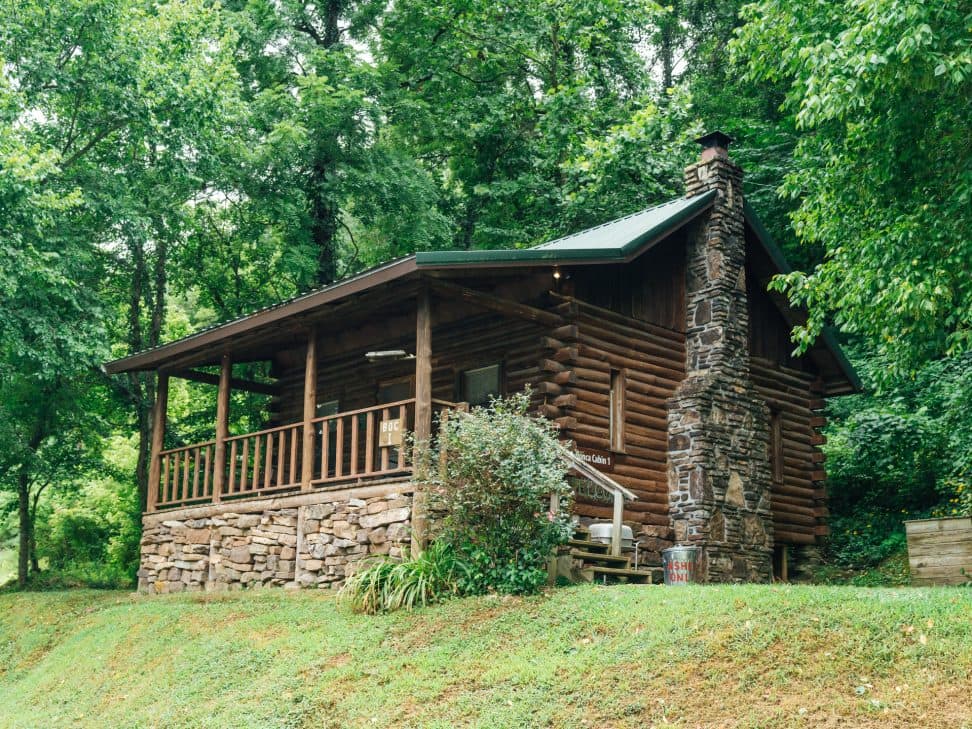 Great For the Entire Family
Rates
$169 per night + tax
Overview
Get on Ponca time.
Located in the heart of Ponca along Hwy 43, Ponca Cabin 1 offers a cozy, budget-friendly cabin experience that comfortably lodges up to 6 guests. Grab a sandwich from the nearby BOC Store & Deli and explore with easy access to the Buffalo National River and the Lost Valley Trail. After an exciting day of hiking and floating, relax on the deck's porch swing or warm up in front of the cabin's wood-burning fireplace. Unwind on Ponca time with family and friends – oh, and your four-legged pals are welcome too!
Note:

Please note that for families with small, active children requiring close supervision, we recommend
Ponca Cabin 2
or
Ponca Cabin 4
, which offer more spacious yard areas for safer play away from the road.
Amenities
Native stone fireplace
Fully furnished kitchen (including coffeemaker and filters)
Fully furnished shower-bath
Blow dryer and soap/shampoo
Complimentary WiFi
TV with DVD player
Free access to our library of DVDs
All essential bed, bath and kitchen linens
Heat/AC and ceiling fan
Front porch swing
Charcoal grill
Firewood and kindling
Maintenance staff, available 24/7
Details
About TV:
Enjoy our large library of free DVDs available at our store during your stay, as antenna reception and cable aren't available.
About Cell Service:
Directions to Cell Service: Cell service is not available at this cabin, but it can typically be found outside of Ponca. Drive 3 miles north of Ponca on Hwy 43, then turn left at the Centerpoint trailhead onto Firetower Road. Continue driving along Firetower Road until your phone has an adequate signal.
About Wifi:
All cabins are equipped with complimentary WiFi. Please note that WiFi is a free service and due to our secluded area, may not always be the most dependable due to circumstances beyond our control.
This is a Pet-Friendly Cabin!
Pets are welcome in this cabin, with a $29 + tax charge per night, per pet. Two pets maximum, please! And don't forget to pick up your Pet Kit upon arrival, which includes dog treats, a sleep sheet and waste bags.
Pet Etiquette:
We love having your pets along, but out of consideration for future guests, please follow proper pet etiquette. Please do not permit your pet to sleep or lounge on a bed, and large dogs should not be allowed on any furniture. When you take your pooch on a walk, please keep your pet on a leash at all times when outside the cabin. Pets must be crated when left alone in a cabin. Thank you for picking up pet waste (with the bags provided upon check-in) in the cabin's yard and disposing of it in the outside trash can prior to departure.
About Tents & Campfires:
Tents, RVs and campfires are not permitted on cabin grounds. For an RV site, please visit our RV Park page.
Smoking:
Smoking is not permitted inside the cabin. Please smoke outside and discard butts in the receptacle provided.