Click here for a Lost Valley Trail Map | Scroll down for Lost Valley video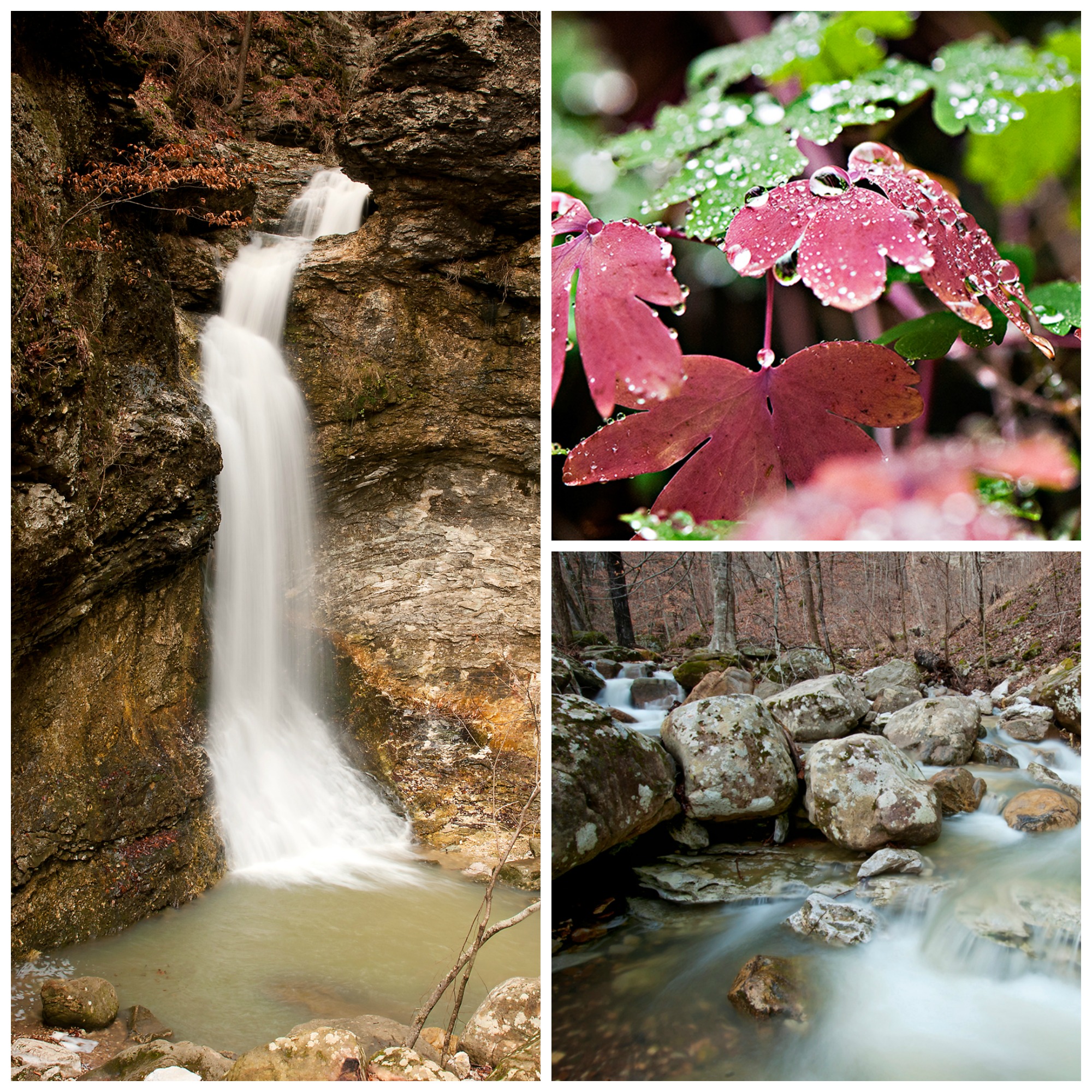 2.2 Miles R/T: With good reason, this is the most popular hiking trail in the national park, as well as the state of Arkansas. There is never a bad time to hike Lost Valley---it's as beautiful in winter as it is in springtime.
Our geologist friends tell us that the box canyon which forms Lost Valley was probably once all underground and that the large bluff shelter (Cobb Cave) and small underground cave are remnants of that single underground cavern.
Wildflower and medicinal plant folklore enthusiasts will enjoy the trail immensely as it features a wide variety of species, including bloodroot, crested iris, columbine, mayapple, comfrey and Ozark trillium, just to name a few.
The waterfalls in Lost Valley run best after a rain, but even in drier summer months the trail is pretty and merits the 2 hours it takes to complete the hike.
The trail offers folks easy walking or wheelchair access, along with a couple of benches to rest on the first 1/2 mile. The trail then becomes less level and is no longer handicap accessible.
Photographers will love shooting in Lost Valley on cloudy days, which when the creek and its waterfalls are running, allows for plenty of dragging-the-shutter opportunities. On sunny days, we like early morning or late afternoon while the light is still even and the sun is not casting hot spots and shadowy contrast about. Although a wildflower lit by a ray of sunshine can make for a beautiful image. So perhaps there are no bad shooting days in Lost Valley!
Catch our latest Lost Valley Trail video!


Exploring Lost Valley Caves
Cobb Cave is actually a giant bluff shelter and gets its name from the Native American (likely the Osage) corn cobbs that were found at the site by a University of Arkansas archeology team. Continue up the hillside from Cobb Cave and you'll find the entrance to the small underground cave, which is about 50 yards long and the perfect introduction to what the inside of a wild cave is like. Be sure to have two flashlights with you before entering the cave. To find it, cross the creek coming out of the cave's entrance and look for a small, narrow opening on the other side. Please exercise caution at the mouth of the cave as one side forms a waterfall ledge with a precarious drop off.
As you enter, stay to the right (left requires you to crawl, but winds up at the same place) and follow the narrow corridor back to the waterfall room. Taller folks will need to stoop here and there in the corridor. Once you're in the watefall room, it's fun to turn the flashlight off for a few seconds and give everyone a chance to appreciate just how dark a cave can be! (Just make sure you have a good grip on the flashlight when you do and keep your finger on the "ON/OFF" button.) Go back the way you came, staying to the left. Also, be sure to have everyone watch for bats that may be hanging overhead. Don't touch, but rather enjoy the up-close-and-personal opportunity to see a bat handing upside down this close to your head!
COMING TO HIKE & NEED LODGING? Click here to explore our beautiful CABIN RENTAL options!
Directions from Ponca
From Ponca, go south on Hwy 43 about 1.5 miles to the paved turnoff on the right, which is marked with a sign. Meander back about 1/2 a mile to the trailhead parking area.