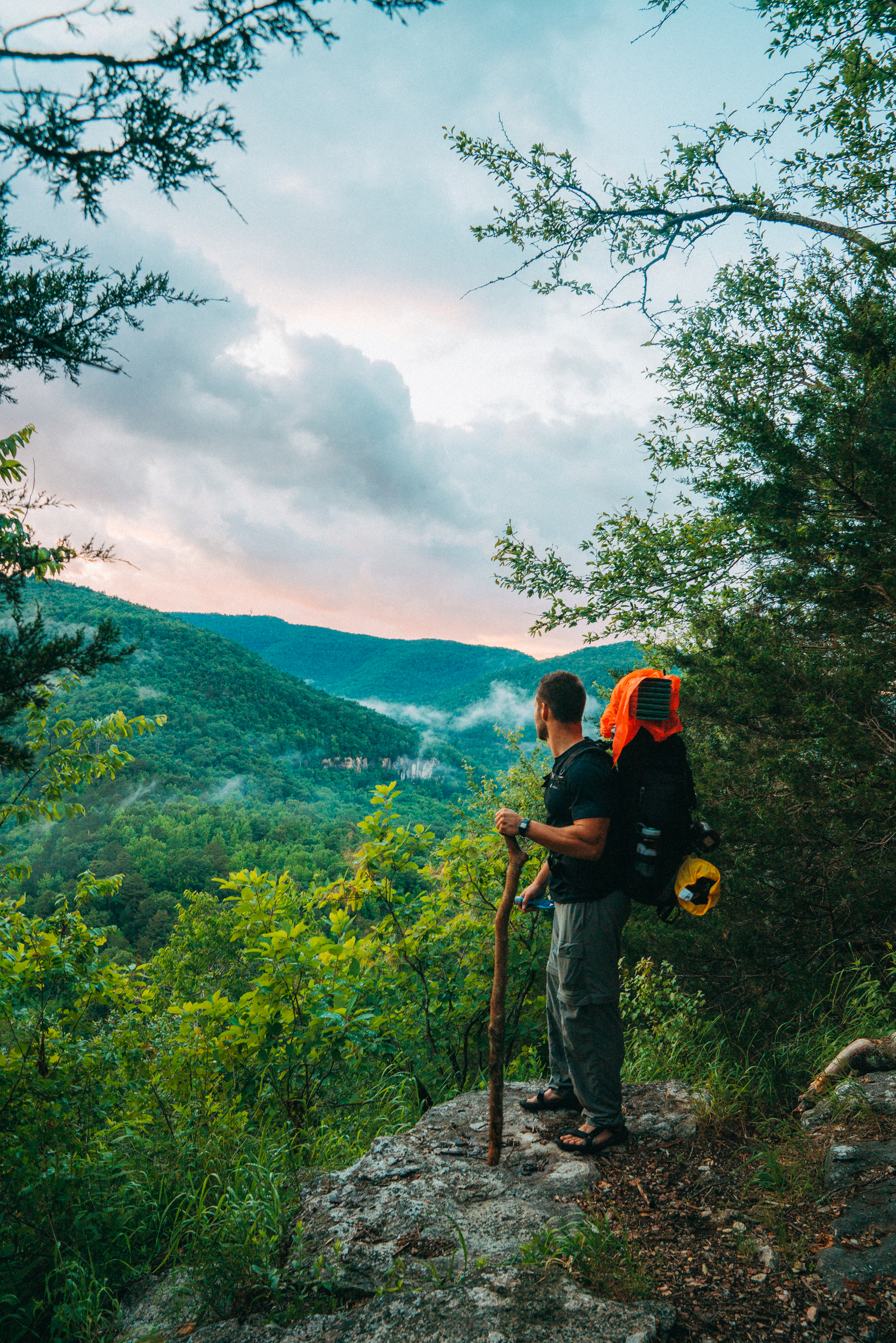 The Buffalo River Trail is one of the finest backpacking adventures in mid-America---if not the best due to its wilderness setting, superior scenic beauty, opportunity to encounter wildlife and the chance to visit historic homeplace remnants.
To hike the trail (also known as the BRT) is to know a vanishing American landscape, whether you take on its full 37-mile length from Boxley to Pruitt, day hike a portion or use it to access one of the many canyon-like side drainages that cascade several hundred feet to the Buffalo River below.
Whatever your hiking plans for the Buffalo River Trail, you will not be disappointed. And, at Buffalo Outdoor Center we are ready to help you make the most of your time on the trail with good information, itinerary suggestions, shuttle services and Trails Illustrated topo-like maps of the Buffalo National River corridor. Call us at 1-870-861-5514 for personal assistance or email us now. We can even ship you the West Half of the Buffalo National River Map in advance of your backpacking trip. This water-resistant map is $13.95+$6.45 S&H within the USA.
The Old River Trail: Another Way to Explore Buffalo River Country
The Old River Trail criss-crosses back and forth across the Buffalo National River from Ponca to Pruitt. Long before this was a national park, the river was home to pioneer families who moved up and down the river by horse-drawn wagon and eventually automobile or truck. You can still see skeletal remains of some of these abandoned vehicles as you travel the Old River Trail.
This trail is for those who don't mind getting their feet wet, as even in summertime low water there's just some places that always offer a wet crossing. The trail is most commonly used by trail riders, however, it is not unusual for a backpacker to travel the Old River Trail as well. The advantage to this trail is it keeps you in the riverbed where you can enjoy the scenic beauty of the Buffalo River closeup and personal. In contrast, the Buffalo River Trail traverses the eastern upper mountain benches above---and oftentimes out of sight---of the river below.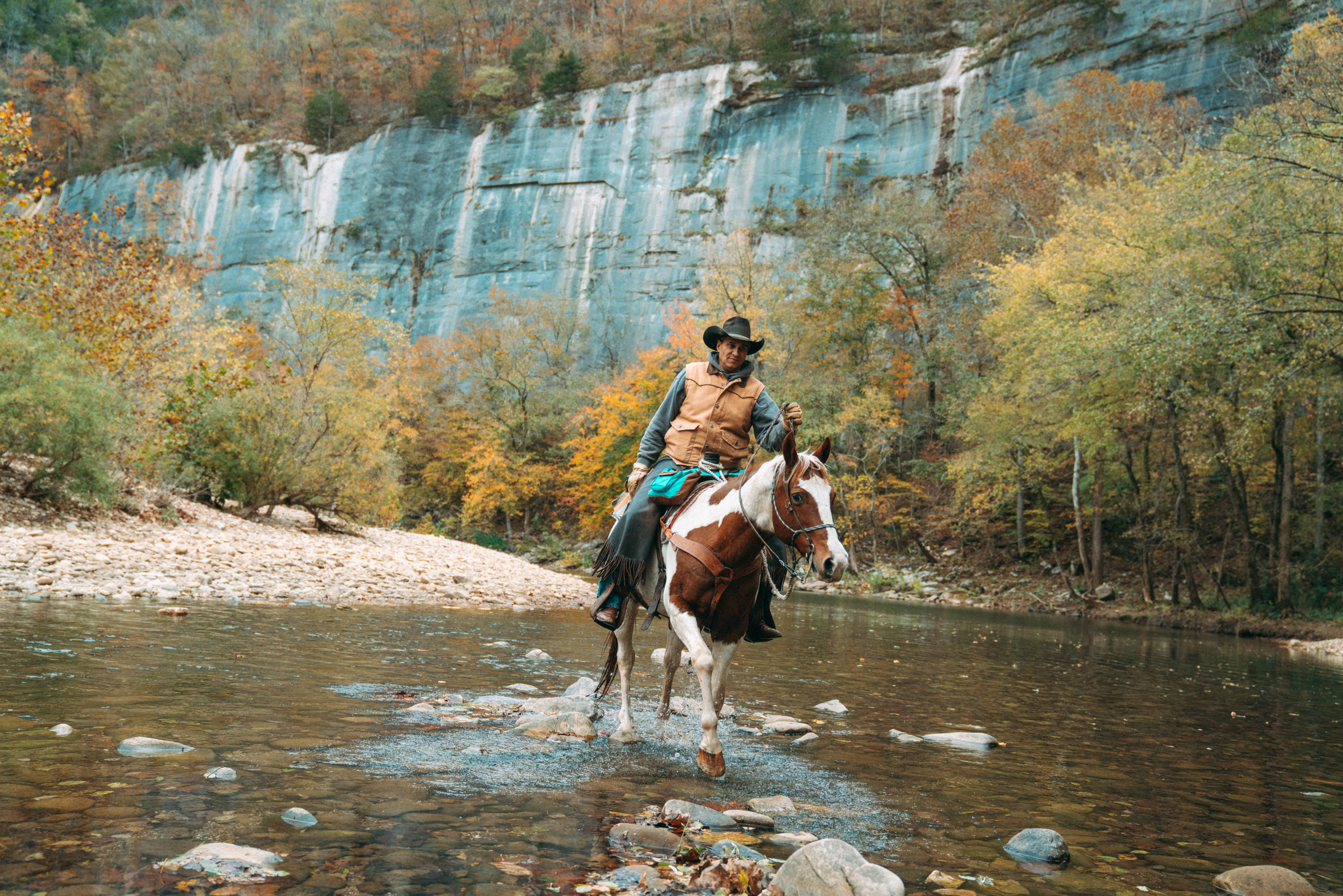 In summer, the trail can become more than a bit gnarly as the undergrowth, along with assorted ticks, chiggers and mosquitos, can keep you challenged in between river crossings. For this reason, fall and winter are glorious times to enjoy the Old River Trail with the main challenge being that of keeping your feet warm and dry, at least for part of the time.
Springtime can be wonderful, too, before the undergrowth and bugs become overwhelming; however, the downside is that this is the season for rain---sometimes heavy rain---and counting on being able to stay down in the riverbed is unpredictable at best. Due to rising water, you may be forced out at a place or on a day that didn't fit into your original plan.
That all being said, the Old River Trail is a beautiful place and worth exploring, if even to a small extent. One way to perhaps have your cake and eat it, too, is to hike from Centerpoint Trailhead down to Jim Bluff and camp for a couple of nights. Then you can roam up and down the river, but always come back "home" to base camp for dry socks and shoes. To hike out, either return the way you came (exploring Big Bluff perhaps on the way out) or hike up the Hemmed-In Hollow trail to Compton. Centerpoint to Compton is about 7.6 miles R/T and gives you the best of the Buffalo National River to explore! If you need shuttle assistance, we can provide it by moving your vehicle from one trailhead (say, Centerpoint) to the other (Compton). The cost of this shuttle is $40, plus tax.
COMING TO HIKE & NEED LODGING? Click here to explore our beautiful CABIN RENTAL options!