Multi-Day Float Trip Options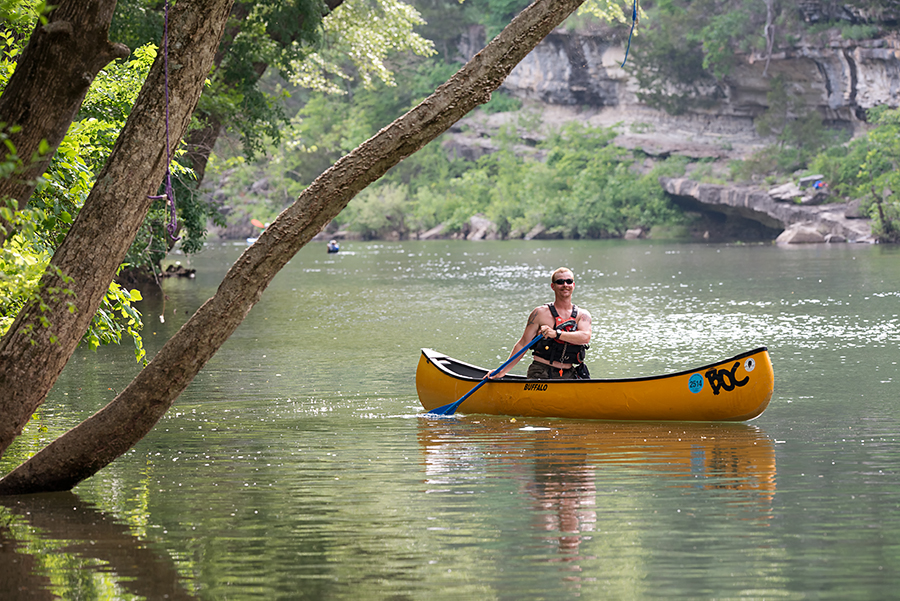 One of Arkansas' finest adventures is a multi-day trip on the Buffalo National River, whether you paddle for a couple of days or a couple of weeks. Your launch site is typcially chosen by us, dependent upon where we feel water level is best on the first day of your float trip. You, however, will select your take-out access.
Please note that on high-volume boat launch days (such as Saturdays in May and June), the launch site may be determined based on our ability to provide launch service to a particular access. For example, we would most likely be unable to provide launch service at Pruitt on a busy Saturday wherein we're launching up river several miles at Steel Creek. We greatly appreciate your understanding of this.
Ponca to Pruitt (23.9 miles)
Our most popular multi-day canoeing trip is the Ponca to Pruitt stretch, a 23.9-mile float that takes a minimum of two days to complete. This trip features the best scenery the Buffalo National River has to offer, including majestic Big Bluff and many other beautiful bluffs along the way, plus, towering Hemmed-In Hollow waterfall and the chance to visit or camp at the historic Erbie area.
Pruitt to Mt. Hersey (17.8 miles)

When water levels are lower and we launch downriver at Pruitt (just off Hwy. 7, about 5 miles north of Jasper), the typical 2-day canoe trip is from Pruitt to Mt. Hersey.
Longer Trip Options
Beginning at Ponca, there are 132 miles of Buffalo National River to explore and many ways to plan a multi-day trip. Take a look at our interactive online Buffalo National River map for mileage and access information or call us at 870-861-5514 to learn more about your launch and take-out options.
Multi-Day Canoe & Kayak Rental
Call us at 870-861-5514 to book your canoe(s) and/or kayaks. For weekend rentals, you'll want to book in advance as we are always 100% booked on Saturdays, oftentimes a month ahead of time. Click here for current canoe and kayak rental rates.
Boat Rental Contract & Risk Agreement
Click here if you'd like to review our canoe / kayak / raft rental and risk agreement prior to arrival. Click here to review our boat cancellation policy.
Launch Times
Depending upon the month, launch times may vary somewhat. For example, in March when days are shorter, the latest launch time may be Noon or earlier. In April, May and June, when there's more daylight to be had, we may launch boats as late as 1:00 PM.
BE AWARE: The NPS has adopted a "zero-tolerance" position on music played on radios, boomboxes and other devices that interfere with the natural, quiet ambience of the designated wilderness area between Steel Creek and Kyle's Landing accesses. You may, however, enjoy music within the campgrounds. Just remember, please, that many people come to the river for peace and quiet, so play music within earshot of your campfire, rather than your neighbor's. ;)

BUFFALO RIVER PADDLER'S GUIDE
First time on the upper Buffalo National River? Unsure about how the boat rental and shuttle system work? Here's a handy, quick-start guide just for you! BUFFALO RIVER PADDLER'S GUIDE
---

Buffalo River Camping
This is Arkansas' finest canoeing scenery, so a multi-day float trip on America's first national river is one of the best canoeing adventures to be had! Click here to learn more about Buffalo National River camping.
Buffalo National River Map
Looking for a full-length Buffalo River map? Or, if you're floating between Ponca and Carver, you can download (and print!) maps of these upper Bufalo River sections:
Off-Season Canoeing
While it's possible for us to have a water level conducive to floating any time of year, our season is typically March through June. If rainfall suddenly brings the river up, we immediately post the availability of water on our Current Buffalo River Level Report. However, typically for multi-day river trips planned during July through February, you'll want to contact an outfitter on the middle or lower Buffalo National River. Please visit this National Park Service page for a list of downriver canoe rental outfitters.
Your Opinion Matters
After visiting the Buffalo National River and being served by Buffalo Outdoor Center, we encourage you to share your experience with the National Park Service via a special comment form. It's a great way to:
Make suggestions for park improvements
Share things in particular you enjoyed about the park
Share your thoughts about the canoe rental / shuttle services you received from BOC
Simply click on this link to open a PDF of the form: Buffalo National River Comment Form. Then, fax, email or mail it back to the National Park Service / Buffalo National River Headquarters (contact information is provided on the form). Each form is personally reviewed by the park superintendent, so it's a great way to directly share your thoughts with park leadership!
---
Buffalo Outdoor Center is authorized within Buffalo National River to provide canoe rentals and transportation services.