Things to do here in upper Buffalo River country during your cabin stay!
ZIP LINE ADVENTURE ON OUR BUFFALO RIVER CANOPY TOUR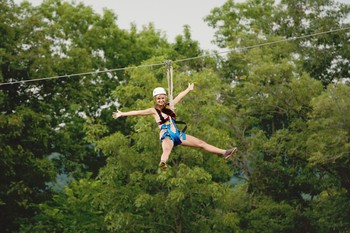 See Buffalo River country from an entirely different perspective---the treetops! Our Buffalo River Canopy Tour is Arkansas only wilderness zip line experience. It's not just a zip line, it's an adventure! In a nutshell, tours are about 2-2.5 hours in length and for ages 7 and older. Advance reservations are recommended for weekends and holidays. Click here to learn more about our Buffalo River Canopy Tour zip line adventure, including the 2017 tour schedule!
EXPLORE THE BUFFALO RIVER'S FINEST HIKING TRAILS
Stretch your legs and take in Arkansas' finest trail scenery on one of the many stellar hiking trails in upper Buffalo River country. Summer is a perfect time to explore outdoors with waterfalls turning on and wildflowers beginning to make an appearance. Visit our Top Hiking Trails page for information about some of the national park's most beloved trail adventures, including trailhead directions and downloadable maps!
HUNGRY? NEED A PICNIC LUNCH? BOC DELI TO THE RESCUE!
At our deli, you'll find hearty, handcrafted sandwiches made from all-natural meats, quality cheeses and veggies and super delicious, locally baked Neighbor's Mill breads. Going on a river picnic, float trip or hike? Let us make lunch planning easy with sandwich meals that will satisfy any adventurous appetite. Click here for our menu of deli creations!
LOVE GREAT MASSAGE? BOOK AN IN-CABIN SESSION!
We know of a wonderful local massage therapist, Chris Cedarburg, who can provide you with in-cabin massage services. Click here to learn more about in-cabin spa services, then call our office staff to schedule your "aaaaaahhh" time here in Buffalo River country!
ELK WATCHING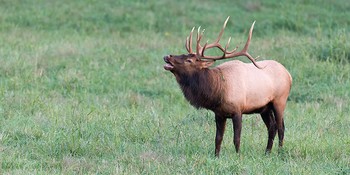 Ponca elk watching is beginning to get exciting with the fall mating season about to unfold. The bulls are in the process of shedding their antler velvet in preparation for the event, which kicks into high gear starting in mid-September. Click here for helpful tips about elk watching in the Ponca area. Then, make sure you've packed those binoculars and camera!
HORSEBACK RIDING
Saddle up, pardner, as the friendly folks at Rimrock Cove Ranch are ready to take you on a leisurely trail ride through their heavenly piece of Ozark Mountain countryside. Just give them a call at 870-553-2556 to book great fun with a 4-legged friend! (Rimrock rides year 'round, even in winter!)
BEAUTIFUL CAVE TOURS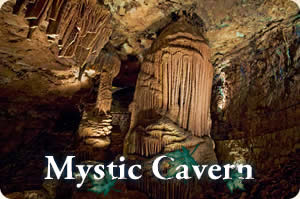 Explore underground wonders at Mystic Caverns, where the folks are nice and the below-the-surface scenery is gorgeous. This is a terrific family activity, as well as one ideal for a hot mid-day adventure thanks to the caves' pleasing, cooler temperatures. Mystic Caverns is located just 30 minutes from Ponca on Hwy 7 between Jasper and Harrison. (Please note that Mystic Caverns is closed on Sundays and certain times during the winter. Visit their website at the link above for current hours.)
---
Buffalo Outdoor Center is authorized within Buffalo National River to provide canoe, kayak, and raft rentals and transportation services.